Date Shifting Oracle PeopleSoft
One of the most widely used and user-friendly relationship management systems on the market, Oracle PeopleSoft, delivers its promise to streamline all types of processes. What's more, PeopleSoft allows for various time and date functions, which is deemed invaluable in the business segments where it operates.
In terms of relationship management, Oracle PeopleSoft has established its foothold across various industries and organizations, including higher education, financial services, manufacturing; virtually any mid- to large-sized company can find a use for Oracle PeopleSoft. From a functional vantage point, Oracle PeopleSoft shines in the areas of people management (such as human resources, payroll management, education, etc.), customer relationships (as a CRM solution, for instance), financial supply chain management (in the instance of payments and transaction processing, internally across business lines and externally with vendors, suppliers, etc.), and enterprise performance management.
One reasonable explanation for the popularity of Oracle's PeopleSoft solution is that it operates across and comprises of various Oracle products (such as Weblogic Application Server, Oracle Database, Tuxedo, etc.) and allows a great deal of customization and, when used with an appropriate external solution, various crucial testing environments.
Given PeopleSoft's versatility across organizations, industries, and functional units, a need for rigorous, resource-heavy, safe, and stable temporal testing exists. These testing requirements will rely heavily on date shifting functions, including time travel and time simulation. Whether operating in insurance, education, finance, manufacturing, or any other capacity, organizations often find the need to test their PeopleSoft assets in a variety of temporal environments.
Examples
Consider a white-label charge card environment where a partner requires customization for a promotional program targeting key customers. Where such a promotional program lies outside the partner's standard program, such as a specific change or roll-out of a unique billing cycle or scheme, the ability to incorporate time simulation in their roll-out can highlight key issues that can have far-reaching impacts on delivery.
Likewise, consider a human-resources scenario where changes to employee programs, such as vesting or functional role updates, are in process. Such changes could impact an employee's pension enrollment or eligibility, insurance rates, or compensation rates. Through temporal testing, users can incorporate date shifting and time-shifting to test possible outcomes for such an employee or group of employees in a safe setting that results in no impact on the ongoing delivery of services to the employee (or the entire human resources system!)
A solution like TimeShiftX allows for time travel for temporal testing. In an Oracle PeopleSoft environment, TimeShiftX allows all types of organization and functional units to rigorously test without changing system clocks, editing code, or isolating servers. This means no downtime, data impairment or loss, or interruption to a business line's (or entire organization's) ongoing operations.
With TimeShiftX, time travel in Oracle PeopleSoft is made exceptionally simple by deploying a TimeShiftX command to create a seamless virtual time for PeopleSoft where various scenarios can be tested, including date shifting, time-shifting, and time simulation.
Pictures
To initiate time travel, run a TimeShiftX command or GUI for the Oracle PeopleSoft process / id.
C:\> timeshiftx Windows terminal command
$ timeshiftx Linux/UNIX terminal command
TimeShiftx Windows GUI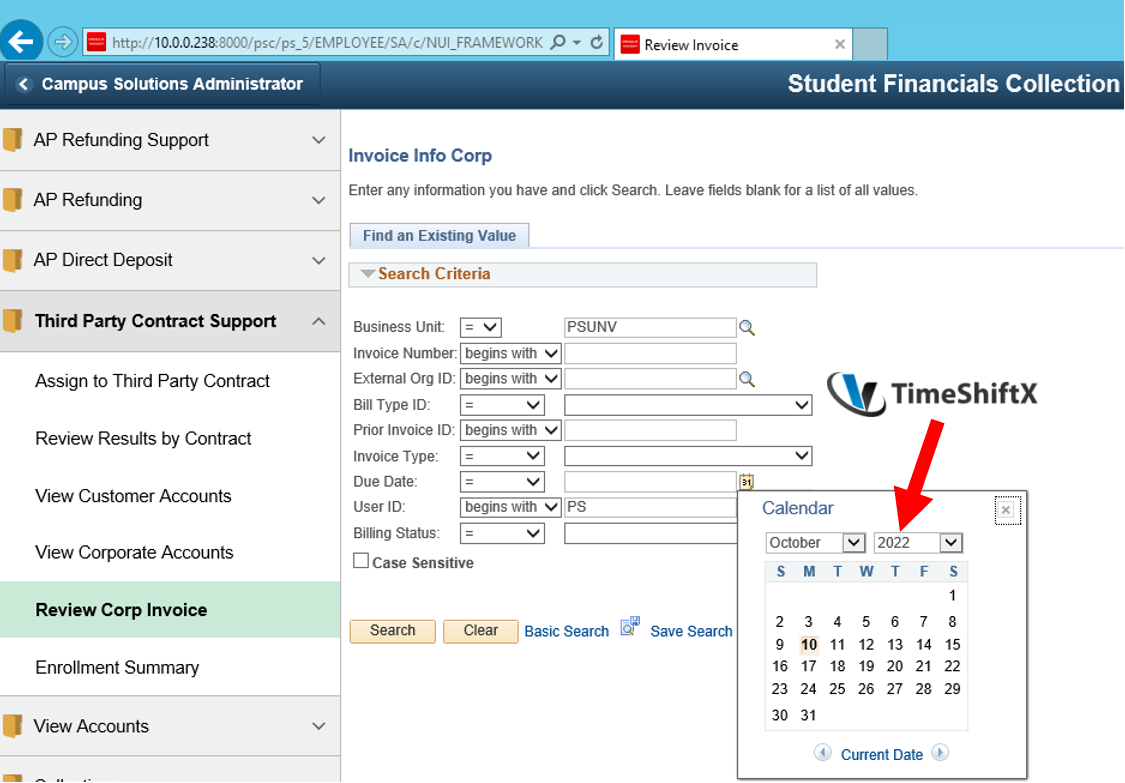 Figure 1: Oracle PeopleSoft Campus Solutions time traveling to 2022.